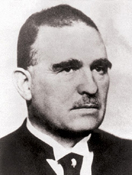 Victor Moritz Goldschmidt
(1888-1947)
V.M. Goldschmidt was a chemist considered to be the founder of modern geochemistry and crystal chemistry, developer of the Goldschmidt Classification of elements.
The V.M. Goldschmidt Award is presented annually at the Goldschmidt conference.
The award consists of an engraved gold-plated bronze medal, an honorarium (US$ 1500), a travel stipend, and inclusion as a Geochemical Fellow.
The V. M. Goldschmidt Award shall be made for major achievements in geochemistry or cosmochemistry, consisting of either a single outstanding contribution, or a series of publications that have had great influence on the field. The award will normally be given annually at the V. M. Goldschmidt Conference.
Go to Make a Nomination for eligibility and nomination requirements.
| Year | Medalist | Citationist | Published Speech |
| --- | --- | --- | --- |
| 2018 | Michael A. Arthur |   |   |
| 2017 | Jill Banfield | Michael Hochella |   |
| 2016 | Alexandra Navrotsky | Masaki Akaogi | GCA v. 201 pp. 427-429 |
| 2015 | Miriam Kastner | Adina Paytan and Harry Elderfield | GCA v. 172 pp. 469-470 |
| 2014 | Timothy Grove | Francis Albarede | .. |
| 2013 | Henry Elderfield | Ros Rickaby | Citation | Acceptance |
| 2012 | Edward M. Stolper | John Eiler | .. |
| 2011 | Frank Millero | George Luther | .. |
| 2010 | Minoru Ozima | Bernard Marty | .. |
| 2009 | Mark Thiemens | James Farquhar | GCA v.89 pp.334-338 |
| 2008 | Francis Albarède | Marc Chaussidon | .. |
| 2007 | Guenter Lugmair | G.J. Wasserburg | GCA v.73/13S pp.S1-S3 |
| 2006 | Susan Solomon | Lynn Walter | .. |
| 2005 | E. Bruce Watson | Mark Harrison | GCA v.71/15S pp.S1-S3 |
| 2004 | James R. O'Neil | Hugh P. Taylor, Jr. | GCA v.70/18S pp.S1-S5 |
| 2003 | Bernard J. Wood | Alex N. Halliday | GCA v.68/9 pp.1955-1958 |
| 2002 | John M. Hayes | Daniel P. Schrag | GCA v.67/13 pp.2301-2303 |
| 2001 | Ikuo Kushiro | Eiichi Takahashi | GCA v.66/4 pp.549-552 |
| 2000 | Geoffrey Eglinton | Edouard Bard | GCA v.65/6 pp.1003-1006 |
| 1999 | James L. Bischoff | Wayne C. Shanks, III | GCA v.64/4 pp.751-754 |
| 1998 | Werner Stumm | James J. Morgan | GCA v.63/19-20 pp.viii-xii |
| 1997 | Devendra Lal | .. | .. |
| 1996 | Albrecht W. Hofmann | Claude J. Allegre | GCA v.60/19 pp.3763-3766 |
| 1995 | Robert A. Berner | John W. Morse | GCA v.59/21 pp.4565-1434 |
| 1994 | Heinrich D. Holland | A.C. Lasaga | GCA v.59/7 pp.1429-1434 |
| 1993 | S. Ross Taylor | Brian H. Mason | GCA v.58/17 pp.3757-3760 |
| 1992 | Stanley R. Hart | Alan Zindler | GCA v.57/8 pp.1891-1894 |
| 1991 | A.E. (Ted) Ringwood | Albrecht W. Hofmann | GCA v.56/12 pp.4333-4338 |
| 1990 | Edward Anders | Michael J. Drake | GCA v.55 pp.1201-1204 |
| 1989 | Karl K. Turekian | Harmon Craig | GCA v.54/4 pp.1201-1205 |
| 1988 | Harold C. Helgeson | Denis Norton | GCA v.53/4 pp.947-951 |
| 1987 | Wallace S. Broecker | Karl K. Turekian | GCA v.53/8 pp.2135-2136 |
| 1986 | Claude Allegre | G.R. Tilton | GCA v.51/6 pp.1771-1774 |
| 1985 | James B. Thompson, Jr. | Priestley Toulmin | GCA v.50/6 pp.1307-1309 |
| 1984 | Alfred O.C. Nier | Harmon Craig | GCA v.49/7 pp.1661-1668 |
| 1983 | Samuel S. Goldich | Zell E. Peterman | GCA v.48/6 pp.1377-1380 |
| 1982 | Konrad B. Krauskopf | Donald E. White | GCA v.47/5 pp.981-983 |
| 1981 | Robert N. Clayton | James R. O'Neil | GCA v.46/6 pp.1133-1135 |
| 1980 | Clair C. Patterson | Samuel Epstein | GCA v.45/8 pp.1383-1388 |
| 1979 | Harmon Craig | Karl K. Turekian | GCA v.44/8 pp.1233-1236 |
| 1978 | Gerald J. Wasserburg | Samuel Epstein | GCA v.43/3 pp.439-442 |
| 1977 | Samuel Epstein | Hugh P. Taylor, Jr. | GCA v.42/4 pp.441-443 |
| 1976 | Hans P. Eugster | Donald L. Graf | GCA v.41/6 pp.829-833 |
| 1975 | Harold C. Urey | .. | .. |
| 1974 | Hans E. Suess | Edward Anders | GCA v.39/5 pp.767-771 |
| 1973 | Robert M. Garrels | Fred T. MacKenzie | GCA v.38/6 pp.975-978 |
| 1972 | Paul W. Gast | William C. Phinney | GCA v.37/6 pp.1625-1629 |