Pilbara Region of Western Australia
Domical stromatolites from the 3.9 Ga Dresser Formation
Domical stromatolites from the 3.9 Ga Dresser Formation
Des Moser flips the snags while draining a tinnie
Des Moser flips the snags while draining a tinnie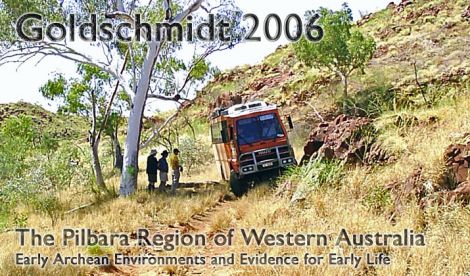 Sixteen geological enthusiasts from around the world used the opportunity provided by the 16th Annual Goldschmidt Conference to view the evidence for Earth's oldest life in 3.5 billion year old rocks of the Archaean Pilbara Craton in Western Australia. The week-long trip focussed on the geological evidence for, and geological environments of, early life in the ancient nucleus of the craton, and also visited key stops that elucidated the tectonic history of the craton, including the younger accretionary history of the West Pilbara Superterrane. The general consensus was that there is very good evidence for early life on Earth and that it occupied a diversity of geological environments by 3.4 Ga, including hotsprings in submarine to subaerial volcanic caderas, and shallow marine platforms.
Participants came from all walks of geological life, including field geologists, igneous and isotope geochemists, sedimentology and chert experts, micro-analytical specialists, and students. The camaraderie of the group was exceptional and evenings were spent in long discussions on geology, life, astrobiology, and everything in between. The fieldtrip was conducted on a bright orange, 25-seater tour bus that was expertly driven by Bob Hollis of WesternXposure, who also cooked for us all, fixed flat tyres, helped build stone bridges, and provided unfailingly good cheer throughout the trip.
Cultural highlights included camping out under the stars, a cooling swim in Marble Bar Pool after a hot morning walk, viewing Aboriginal petroglyphs, a dinner of barbequed kangaroo steaks, an unexpected thunderstorm, and a dip in the Indian Ocean.
A digital copy of the fieldtrip guidebook can be obtained by contacting Martin J. Van Kranendonk.
Martin J. Van Kranendonk (Geological Survey of Western Australia) and John Lindsay (NASA), Trip Leaders