Reflections on Geochemistry Downunder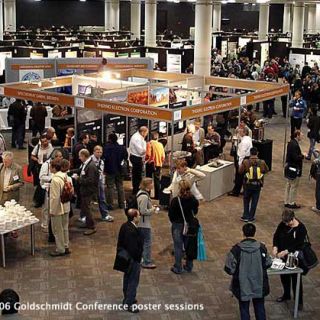 2006 Posters and Exhibits
Simon Turner holding the Program CD
Simon Turner holding the Program CD
Delegate registration bags (pre-conference)
Delegate registration bags
The 16th Annual V. M. Goldschmidt Conference, Melbourne, Australia
The 16th Annual V.M. Goldschmidt Conference, Geochemistry Downunder, was held between August 27th - September 1st 2006 in the Melbourne Convention Centre, Australia. Societies who supported the conference included the Geochemical Society, the European Association of Geochemists, the Geological Society of Australia and the Geochemical Society of Japan. In addition, the conference was generously supported by 18 sponsors and exhibitors, with Nu Instruments as the principle sponsor. Underwriting was provided by the conference organisers, Tour Hosts, and Macquarie University.
The conference received 1515 abstracts and had 1341 registrants, including delegates from 37 countries, the largest demographic (326) being Australia, followed closely by the U.S.A. (284), the U.K. (117), Japan (104), Germany (77), China (63), France (59) and Canada (54). Attendees were greeted with a complimentary bottle of Coopers Pale Ale and a cooler bag, containing bottle opener (courtesy of Melbourne University), selected as the conference satchel so that it would have future utility!
The conference organisers were Simon Turner (Macquarie University), Hugh O'Neill and Greg Yaxley (Australian National University), Janet Hergt (University of Melbourne) and John Foden (University of Adelaide). From the outset, we wished to achieve a number of objectives, based on observations and feedback from previous Goldschmidt Conferences. In particular, we wanted to host the meeting in a state-of-the-art venue and under a single roof to keep delegates together and networking. To this end, morning coffee, lunches (Monday - sourdough sandwiches; Tuesday - baked potatoes with chilli con carne, cheese and sour cream; Wednesday - Baguettes with assorted fillings; Thursday - grilled gourmet sausages in crusty roll with onions, cheese and sauces; Friday - Frittata) and afternoon drinks (wine, beer and juice) were provided daily in the main exhibition hall amongst the posters and exhibiters booths.
In order to provide a focus for each day, plenary talks were held each day immediately after lunch. All posters (320 in total) were exhibited for the duration of the meeting and given specific presentation times scheduled between 4.30 and 5.30 during which time beverages were served. The conference program was designed as a pocket book for easy use and the conference abstracts were proved on a CD which included a delegate list and history of V.M. Goldschmidt. The abstract were also published as a special issue of Geochemica et Cosmochimica Acta.
The conference was organised into 11 themes, to which more than 90% of the abstracts were submitted; an additional 16 general sessions catered for geochemical topics not specifically covered under the themes. Each theme was divided up into between five and nine sessions. The oral program consisted of 12 parallel sessions. Because the conference was held in a single venue, participants could move between these sessions easily. Many sessions included one or more keynote speakers, who had been invited to give a talk occupying a double time slot.
Social events included the conference dinner and tours around Melbourne, to watch penguins at Philip Island and to the wine growing regions of the Yarra Valley. Pre- and post-conference field trips included the Great Barrier Reef, western Victoria, Proterozoic mineralization and metamorphism at Broken Hill and the Pilbara region of Western Australia.
At an early stage in planning it was recognised that a field trip program might be an added incentive for overseas registrants to make the trip to Australia for the Melbourne Goldschmidt meeting. Accordingly we put together a program of trips that highlighted a selection from the many iconic geological features of Australia and its near environs. Of the initial eight proposed trips four received the necessary support from registrants and were very successfully run with ~110 participants in all.
The pre-conference excursions were:
The Great Barrier Reef: A record of Holocene environmental change, organized and lead by Andrew Christian and Malcolm McCulloch (23 - 27 August).

A geological tour of Western Victoria, organised and led by Jon Woodhead and Janet Hergt (22-26 August). Amongst other features, this excursion highlighted extensive Cenozoic basalts and their mantle xenoliths.
The post-conference excursions were
Proterozoic mineralisation and metamorphism at Broken Hill., organised and led by Professor Ian Plimer (2-6 September)

The Pilbara Region of Western Australia: Early Archaean environments and evidence for early life. Organised and led by Dr. Martin Van Krankendonk and Dr. John Lindsay (2-9 September).
The Organising Committee recognises that the success of the tour program was almost entirely due to the efforts of the individual trip organisers cited above and passes on their thanks for their efforts.
Feedback from delegates has been overwhelmingly positive and many seemed reluctant to leave at the end of the final day of the meeting. The Goldschmidt conferences are clearly 'the' annual event in the geochemical calendar. See you next year in Cologne!
Simon Turner, Janet Hergt, Hugh O'Neill and John Foden