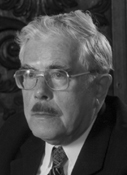 Alfred Treibs
(1899-1983)
Alfred Treibs mentored 32 students and published about 140 papers. His legacy consists of his classic papers on porphyrins as the starting point of Organic Geochemistry, the current Treibs Award of the Geochemical Society and his broad chemical knowledge and modesty in intereacting with us fellow scientists.
-B.R.T Simoneit
The Alfred Treibs Award is presented annually.
The award consists of an engraved silver medal, an honorarium (US$ 1500), a certificate, and inclusion as a Geochemical Fellow.
Presented by the Geochemical Society's Organic Geochemistry Division, the Alfred Treibs Award is given for major achievements, over a period of years, in organic geochemistry.
Go to Make a Nomination for eligibility and nomination requirments.
Year
Medalist
Citationist
Conference
Published Speech
2018
Stefan Schouten
 
2018 GRC
 
2017
Katherine H. Freeman
Roger E. Summons
2017 IMOG
GCA v. 225 pp. 232-234
2016
Patrick G. Hatcher
Thomas Bianchi
2016 GRC
GCA v.201 pp.436-437
2014
Stephen R. Larter
Timothy Eglinton
2014 GRC / Gold2015
 
2013
Marilyn L. Fogel
Susan Lang
2013 IMOG
..
2012
David Des Marais
Katherine Freeman
2012 GRC
..
2011
J. Michael Moldowan
Jeremy Dahl
2011 IMOG
..
2010
John Volkman
Jan de Leeuw
2011 IMOG
GCA v.89 pp.329-333
2009
Kenneth E. Peters
Leslie B. Magoon
2009 IMOG
GCA v.89 pp.322-325
2008
Martin Schoell
..
2009 IMOG
GCA v.89 pp.319-321
2007
Walter Michaelis
Mark McCaffrey
 
..
2006
Bernd Rolf Tatsuo Simoneit
J. Grimalt
 
GCA v.72/12S pp. S1-S5
2005
Jaap S. Sinninghe Damste
M. Whiticar & J. De Leeuw
 
GCA v.71/15S pp.S8-S13
2004
Erik M. Galimov
Martin Schoell
 
GCA v.70/18S pp.S11-S12
2003
Roger E. Summons
John M. Hayes
 
GCA v.70/18S pp.S6-S10
2002
Archie Douglas
James R. Maxwell
 
GCA v.67/13 pp.2305-2308
2001
John W. Smith
Issac (Ian) Kaplan
 
GCA v.66/4 pp.545-548
2000
John I. Hedges
Ronald Benner
 
GCA v.65/6 pp.999-1002
1999
(no award given)
1998
(no award given)
1997
John M. Hayes
David J. Des Marais
 
GCA v.64/4 pp.747-750
1996
Patrick L. Parker
Richard S. Scalan
 
GCA v.61/8 pp.1773-1775
1995
Keith A. Kvenvolden
Phil A. Meyers
 
GCA v.60/10 pp.1837-1841
1994
(no award given)
1993
Isaac (Ian) R. Kaplan
J. William Schopf
 
GCA v.58/8 pp.1991-1994
1992
(no award given)
1991
Jan W. de Leeuw
Simon C. Brassell
 
v.56/5 pp.1781-1783
1990
(no award given)
1989
James R. Maxwell
Simon C. Brassell
 
GCA v54/4 pp.1207-1210
1988
(no award given)
1987
T.C. Hoering
Katherine Freeman
 
..
1986
(no award given)
1985
Pierre Albrecht
Robert B. Gagosian
 
GCA v.50/6 pp.1313-1315
1984
Wolfgang K. Seifert
J. Michael Moldowan
 
GCA v.49/7 pp.1671-1673
1983
Dietrich H. Welte
Detlev Leythaeuser
 
GCA v.48/6 pp.1383-1385
1982
John M. Hunt
Earl W. Baker
 
GCA v.47/5 pp.986-988
1981
Geoffrey Eglinton
James R. Maxwell
 
GCA v.46/6 pp.1137-1140
1980
Bernard Tissot
Gerard Demaison
 
GCA v.45/8 pp.1392-1397
1979
G.T. (Ted) Philippi
Archie Hood
 
GCA v.44/8 pp.1240-1244