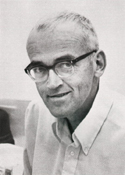 Clair Cameron Patterson
(1922-1995)
C.C. Patterson developed the uranium-lead dating method. Using lead and uranium isotopic data from the Canyon Diablo meteorite, he calculated an age for the Earth of 4.55 billion years. A figure far more accurate than those that existed at the time and one that has remained unchanged for over 50 years.
Photo: from Clair's 1980 Goldschmidt Medal acceptance speech, published in GCA v.45/8 p.1389
The Clair C. Patterson Award, recognizing an innovative breakthrough of fundamental significance in environmental geochemistry, particularly in service of society, consisting of either a single outstanding contribution or a short series of papers published within the last decade, will normally be made annually at the V.M. Goldschmidt Conference.
Go to Make a Nomination for eligibility and nomination requirments.
| Year | Medalist | Citationist | Published Speech |
| --- | --- | --- | --- |
| 2018 | Sigurður Reynir Gíslason |   |   |
| 2017 | Kai-Uwe Hinrichs | Fumio Inagaki |   |
| 2016 | William Casey | Tom Swaddle | GCA v. 201 pp. 430-433 |
| 2015 | Karen H. Johannesson | Berry Lyons | GCA v. 172 pp. 463-464 |
| 2014 | Christopher Reddy | .. | .. |
| 2013 | Joel Blum | Yigal Erel | Citation | Acceptance |
| 2012 | Stefan Schouten | Rich Pancost | .. |
| 2011 | Jeffrey P. Severinghaus | Boaz Luz | .. |
| 2010 | Robert F. Anderson | Jerry McManus | .. |
| 2009 | Boaz Luz | Yehoshua Kolodny | GCA v.89 pp.339-342 |
| 2008 | William Sunda | Brad Tebo | GCA v.73/13S pp.S10-S12 |
| 2007 | Gordon E. Brown, Jr. | George Helz | GCA v.72/12S pp.S9-S11 |
| 2006 | Fred T. MacKenzie | John Morse | GCA v.71/15S pp.S14-S18 |
| 2005 | Kenneth Bruland | Margaret Delaney | .. |
| 2004 | George W. Luther, III | David Rickard | GCA v.70/18S pp.S13-S15 |
| 2003 | William F. Fitzgerald | W. Berry Lyons | GCA v.68/9 pp.1959-1962 |
| 2002 | Henry Elderfield | Alex N. Halliday | GCA v.67/13 pp.2309-2311 |
| 2001 | Francois M.M. Morel | Dianne K. Newman | GCA v.66/4 pp.553-555 |
| 2000 | Edward A. Boyle | Henry Elderfield | GCA v.65/6 pp.1007-1010 |
| 1999 | R. Lawrence Edwards | G.J. Wasserburg | GCA v.64/4 pp.755-761 |
| 1998 | Michael L. Bender | .. | .. |