July 12, 2021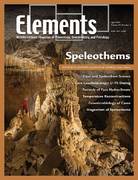 Stalagmites, stalactites, and flowstone—collectively known as speleothems—are some of the most fantastic mineral features in nature. Speleothems are also critical archives of past environments, and their study incorporates expertise from groundwater hydrogeology and geochemistry, atmospheric chemistry, climate science, geobiology, and even geophysics. Research on speleothem trace element and isotopic geochemistry, constituent organic compounds, noncarbonate minerals, and morphology can help illuminate paleoenvironmental conditions and document historical anthropogenic land-use changes. This issue of Elements introduces the many ways that speleothems are used within the geoscience community to learn about natural Earth processes and our role in modifying them. 
Current Geochemical Society members can access this issue now via the 
Elements website
 using your email address (UserID) and member number (Password).